One of the services that Schmucker offers its clients when it sells a machine is the instruction manual that comes with it.
The manual is an integral part of the machine. It should carefully be kept with the machine every time the machine changes owners.
This document is a guide to the use of the machine. It provides instructions for each phase of machine operation and offers valid technical support for operators. The objective is to simplify use, maintenance, disassembly, cleaning and parameter settings of the packaging machine.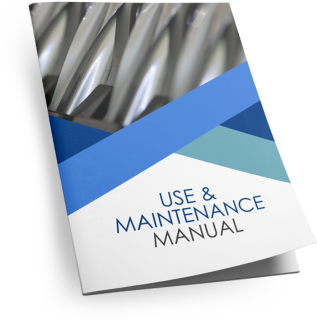 The instruction manual provides all necessary information on:
Technical characteristics
Provisions for safe use of the product
Adjustments
Replacements
Problems, spare parts, maintenance
A unique, specific manual is created for each machine. It deals with its specific operation, and includes the serial number and customer identification. This makes it a custom-made document that is specific for each produced machine, and which makes its operation and maintenance easier.
The manual consists of a general part with information on use of the machine. It then goes into greater detail concerning technical features, the method for installing, starting and shutting down the machine, operating modes, the adjustment of various functions, replacements and adjustments, and cleaning and maintenance.