Who we are and what we do
Schmucker is a partner of the Marchesini Group. It makes stand-alone machines and complete packaging lines for stickpacks and sachets of all the main products of the pharmaceutical, food, cosmetics and chemical industries: products in solid, liquid, powder, granular and gel form and also single items.
Schmucker is able to meet a wide array of requests by offering different ranges and models of packaging machines and complete automatic lines; the multitude of services and variety of products available allow the company to satisfy customers' needs and even exceed their expectations.
Schmucker machines are built exploiting cutting-edge electronic and mechanical technologies and are designed to ensure utmost productive efficiency and low maintenance.
Schmucker machines are built 100% within one single company, from the planning phase to the development and final production phase. This strategy of fulfilling "turnkey" plants from just one source in just one factory means the company is able to optimise every single aspect related to the product and to customer satisfaction.
Thanks to its team of experts in the Research and Development department and to a well-organised production division, the company can provide hi-tech stand-alone machines and complete lines for both the primary and secondary packaging sectors.
Primary packaging
Schmucker packaging machines are designed and developed to meet the needs of each customer and are employed to package various types of products: solids, liquids, products in granular and powder form, creams, gels and even single items, for pharmaceutical, cosmetics, food and chemical industries. All the machines manufactured by Schmucker feature a "Friendly Operation Side" making each machine very straightforward to use, thus improving its service life and drastically reducing operator intervention times.
Secondary packaging
Backed by Marchesini Group, Schmucker also offers an endless range of secondary packaging machines, such as labellers, cartoners, bundlers, case-packers and palletizers, all of which are equipped with just as wide a range of infeed units for all kinds of pharmaceuticals and cosmetics.
Complete automatic lines
the combination of Schmucker stand-alone machines and Marchesini solutions means the company can deliver complete automatic lines that can be adapted to every kind of working environment thus always offering outstanding versatility. Thanks also to the high level of customisation, the lines can be fulfilled for even the most complex requests of customers, ensuring maximum efficiency and safety.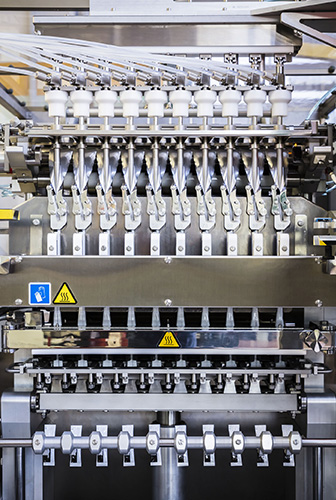 Technological evolution (stickpack machines)
Stickpack packaging machines are Schmucker's core business. Its success in this sector comes from the numerous technologies developed over the years. In particular:
The characteristics of the stick formation blocks ensure perfect product formation and centring so that film change-over is much quicker;
The high level of machine ergonomics allows full operator access from the front. The advantages lie in the possibility to carry out maintenance work without having to dismantle the batcher, as well as making size change-over and cleaning operations very simple;
Fast release size change-over (patented): the stick forming, cutting and filling stations can be totally dismantled to speed-up and simplify size change-over operations using just two tools.
Stick edge-stacking
Duo stick technologies: these make it possible to dispense different products in terms of density, volume and weight, separately and simultaneously, into the same stick. These technologies have been developed to meet the needs of multinational food industries, which need to dispense powdery products (very fatty), granular products (very delicate) or even individual items (e.g. Dehydrated vegetables) into the same bag using multiple-head machines equipped with two dispensers (a scroll dispenser and a volumetric dispenser). The whole process is accomplished without altering the product in any way, as well as fully respecting ergonomics, footprints and FDA regulations.
New stick with three seals: this stick is narrower and smaller than the conventional sachet with 4 seals. It saves up to 45% in packaging material. At the same time, by moving the vertical seal from the centre to the edge of the stick, there are more advantages for both producers (they gain more space for printing the therapeutic indications) and end users (they can open the stick easier by tearing open the whole seal.
Technological evolution (sachet fillers)
Thanks to many years of experience in the multiple-line stickpack packaging machines, to ongoing technological improvements and to close collaboration with the R&S departments of its multinational clients, Schmucker has further improved the production of packagers for sachets sealed on four sides by enhancing mechanical and electronic systems that have contributed to the success of the stickpack machines. Such improvements have boosted the performance of the sachet packagers and consequently the quality of the end product. Some of the special features of Schmucker systems are:
Innovative cutting system that improves the quality of the sachets and doubles the service life of the cutters;
A new system that trims the outer part of the sachets, which really improves the design;
Machine drive managed entirely by brushless motors resulting in outstanding size change-over flexibility and precision.
New dispensing system that combines the precision of electronics and mechanics and that allows the end user to dispense different kinds of products with the same machine and with utmost precision (weight tolerance less than 2%) and without the product contaminating the sealing zone (no drips or spills).