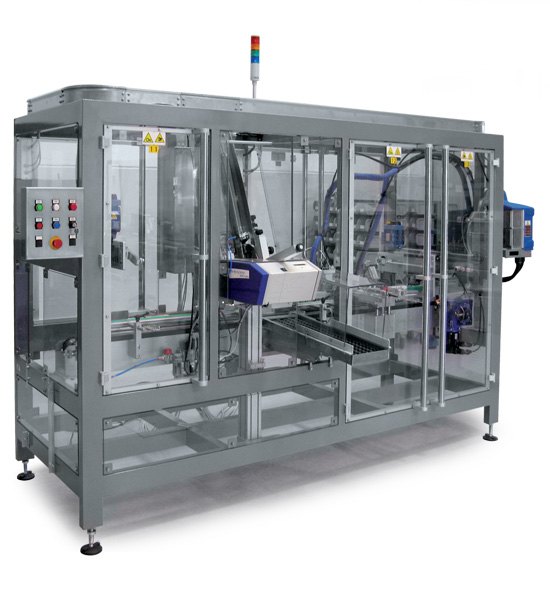 Automatic vertical machine which shapes/closes trays and display boxes with or without cover.
It is fit to shape pressed, micro-undulated cardboard boxes, starting from a flat carton picked up from the store. The machine can work various kinds of top closures such as flap tuck, with adhesive sticker or hot-melt, and is extremely versatile in the packaging of various products such as sachets, stickpacks, bottles, flow-packs, etc.
The most modern technology together with the upgraded electronics guarantee a perfect and reliable control during the forming, the transport and the closing phases of the boxes ensuring a silent, harmonious running of the entire machine along with an excellent synchronization in line with the other upstream and downstream machines.
The size changeover is quick and easy (it requires less than 10 minutes without any tools) and is performed by mobile adjustment devices with analogical indicators.
The design is made in compliance with GMP standards and in complete respect of the "friendly operation concept" which makes easier any access operation, maintenance and intervention operation easier.
Technical data
| | |
| --- | --- |
| Max mech. Output per minute  | up to 40 cycles/min according |
| Format range | MIN 100 mm - MAX 180 mm B MIN 60 mm - MAX 150 mm H MIN 35 mm - MAX 100 mm |
| Installed power | 7-10 kw |
| Electropneumatic running | 220- 380 V 50 Hz 6 Bar |
| Weight | 1000 – 1300 kg |