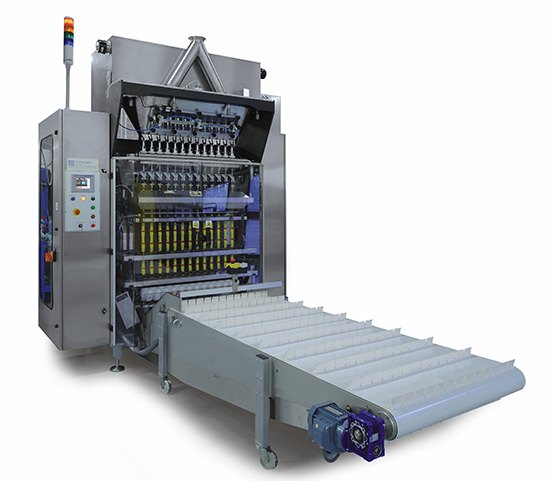 The Pharmastick machine is the result of over 12 years of experience in the stick packaging which incorporates the most revolutionary advanced Schmucker technology. This machine is at intermittent movement for packaging tubular sachets sealed on 3 sides (sticks). The Pharmastick machine is equipped with PLC and touch-screen. This machine offers a full range of solution and model taking into account the following peculiarity:
The sealing zone is at cantilever with respect to the machine body;
The movements of the machine is controlled completely by Brushless servo-motors;
Fast size changeovers, user friendly, fail-safe functionality;
Tool-less release of product contact parts for quick and easy cleaning;
Compact and ergonomic footprint, modularity;
GMP compliance;
FDA regulations compliance especially in terms of selecting suitable materials that remain in contact with the product;
21 CFR Part 11 compliant.
Technical data
Nr of lanes

2 - 16 lanes

Max mech. Output per minute 

speed mechanical min.15÷65 max. strokes/min

Format range

REEL- WIDTH 600-1200 mm Ø 350 - 400 mm  core Ø 72-76 mm
Stick width 18÷60 mm
Stick Length 50÷210 mm

Installed power

10 - 20 kw

Noise level

below 80 dB

Air consumption

400 - 600 Nl/min

Weight

800 - 1500 kg