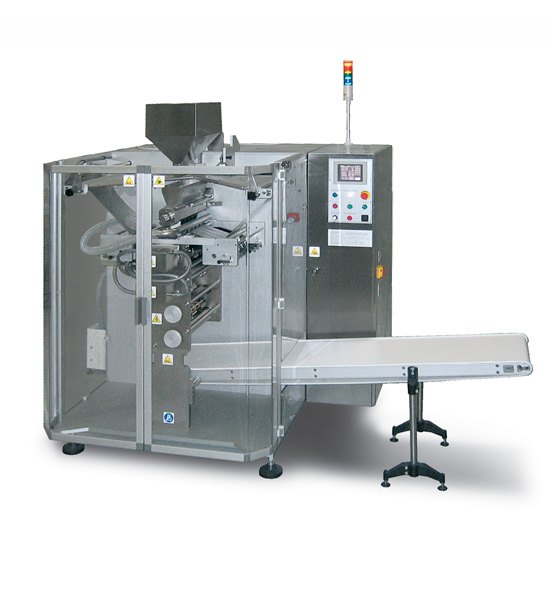 The AS is an automatic sachets packaging machine with continuous and intermittent motion to package sachets sealed on 4 sides. The AS machines are equipped with a PLC and control display to constantly monitor functions and parameters, with the possibility to diagnose alarms and anomalies. The balcony configuration, with the use of exclusive materials such as anodized aluminium and stainless steel, easy cleaning, and high versatility for format change are all technical features that make the machine compliant with GMP and FDA standards. The movement of the AS machines is controlled by a brushless servo-motor which allows a wide range of stickpack length and machine speed, while maintaining high precision in the formation and centring of the sachets. Depending on the characteristics of the products to be packaged, the AS machine is used in various sectors of goods, such as foods, cosmetics, pharmaceuticals, and chemicals, thus fully satisfying market needs.
Types: Liquids and creams: ASL. Powders: ASC. Granular: ASG. Powders and liquids: ASCL.
Accessories and customization: counting and stacking assemblies, product feeding systems, marking/printing systems, weighing systems, cartoning and labellers, complete automatic lines.
Technical data
Nr of lanes

1 - 10 lanes

Max mech. Output per minute 

speed mechanical max.200 cycles/min

Format range

REEL WIDTH: 500-1000 mm 
REEL Ø MAX: 2 x 400 mm (standard), 2 x 590 mm (optional)
CORE Ø 76 mm
sachet: width 40÷250 mm length 50÷220 mm

Installed power

6 -12 kw

Noise level

below 80 dB

Air consumption

100-500 Nl/min

Weight

800 - 1500 kg